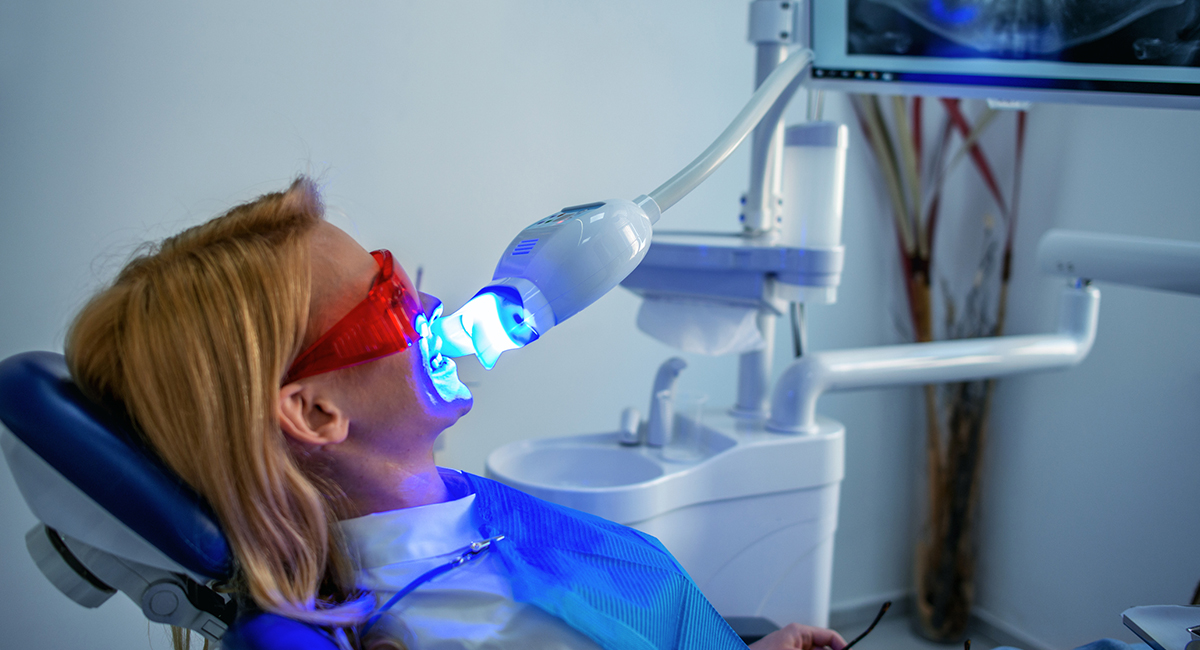 ---
Teeth whitening can provide a dramatic difference in a short amount of time.
---
Are your teeth yellow in pictures?  Are over-the-counter whitening strips not brightening your teeth anymore? Do you have years of coffee stains? Ask us how to whiten your teeth instantly!
A simple, painless, and relatively fast way of removing stains and improving the color of your smile, whitening products are available in drug stores across the country. However, only professional whitening can deliver the best and most consistent results. We are delighted to be able to offer both an in-office service and a take-home tray of our professional-grade products.
---
ZOOM!® In-Office Whitening

ZOOM!® whitening is an in-office method of teeth whitening that will have results of about 8-10 shades whiter in about 1 hour.

The process starts by putting a protective cover over your lips and gums, only leaving your teeth exposed. Next, a gel is applied on your teeth where a blue light lamp will activate the whitening gel for 4, 15-minute sessions. At the end of your whitening session, you have the option to get a take-home kit with custom trays for touch-ups at home.

Please note, it is recommended you have your teeth professionally cleaned before ZOOM!® whitening, and the hygienists will be able to guide you on any advice on what foods you are able to eat and drink.

On the day of your whitening appointment – Please arrive on time for your whitening appointment and make sure you have already brushed and flossed your teeth. The hygienist will give you instructions on what you can or cannot have after the whitening treatment as some foods and drinks could easily stain your teeth directly after.

Opalescence Go!® At-Home Whitening

We also offer the Opalescence® GO! at-home whitening system that patients to purchase at their appointment.

The Opalescence® GO! at-home whitening system for purchase to keep your smile white and bright! Pre-filled whitening trays containing Opalescence® proprietary whitening agent can conform to any smile and are ready to use right out of the box.
---